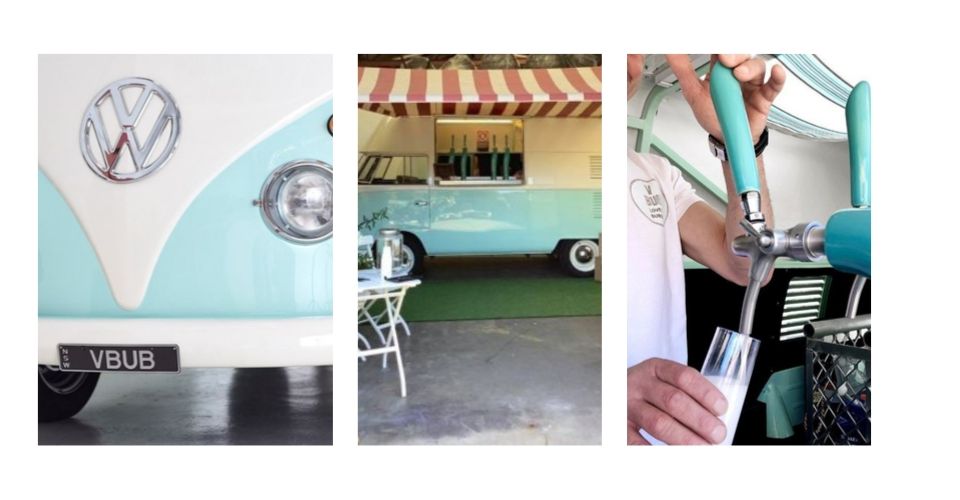 THE VBUB PROSECCO VAN IS A MUST HAVE ADDITION TO ANY SOIRÉE OR OUTDOOR FESTIVAL (Sydney based)
Introducing this irresistibly fun, fully licensed, stylish mobile Kombi bar with a difference….
Meet the The VBUB Prosecco Van, a fully customised stylish complete mobile kombi bar,  VBUB is bringing Prosecco to bubbly-loving party goers in the Sydney and other NSW regions.
Offering our customers something unique and fun for their events along with premium quality beverages and exceptional service.   The owners of the VBUB Prosecco Van have a strong focus on sustainability and are environmentally aware to ensure there is no footprint left behind when we leave your event.
You'll love VBUBs quirky baby blue aesthetic making it an Insta-perfect addition to any outdoor soiree be it a corporate event, private parties, weddings, music festivals or markets.
Our mobile kombi bar is fully licensed, serving glass after glass of perfectly chilled Prosecco, Beer, Wine and Spritz all on tap, VBUB is environmentally conscious keeping waste to a minimum. The retro Kombi has been lovingly converted to serve as a complete mobile bar and fitted with specially designed taps, a service counter and only using a small amount of power.
Inclusions in this service: staff, supply of glasses, lighting and music (all will be outlined in your quote).
As no event is the same, please contact us today for a personalised quote for your bespoke event.