IKEA Wedding
IKEA bride: With this flatpack, I thee wed
The team from Kombi Celebrations (based on Sydney's Northern Beaches), were extremely honored to be selected as the official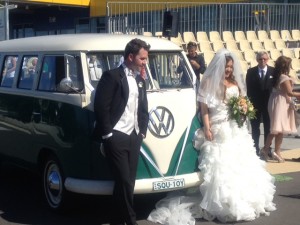 wedding transport by Lynne and Chad, bride and groom of the world first IKEA Wedding, Tempe, Australia, held on Valentines day 2013.  A wonderful day was had by all click here to view the full footage from Channel 7's Sunrise (thanks Mel and Kochie) and photography here.
Post-event story:
What a lovely couple Lynne Klanbida and Chad Martin from Hornsby, New South Wales are, the lucky couple who entered and won the competition to hold their wedding at IKEA's Tempe store.
Beating over 500 entrants, Lynne and Chad are all set to marry on Valentine's Day 2013, nestled among 80 guests and their choice of IKEA crockery, lighting, textiles, dining furniture, decorations and glassware.
As you can imagine it was a huge suprise when Chad called up the crew at Kombi Celebrations to request that Florence our gorgeous green and cream 1964 split-screen VW kombi was their chosen vehicle to take Lynne to the ceremony and be a part of their celebrations.
"We can't wait! We love Kombi's! Deb and Steve are so friendly and enthusiastic. We are so glad they are part of our special day 🙂
 Thank you." Chad.
"It is an absolute pleasure and huge compliment to our business Lynne and Chad for you to find us and select us as your offiical wedding transportation. you are in very good hands, we very much look forward to looking after you both on Valentines day 2013 – what an honour." Deb and Steven (owners of Kombi Celebrations)
Monday 12 November, 2012